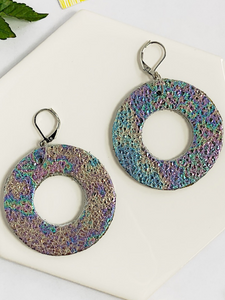 Completely genuine is all that needs to be said about these fun circle earrings by designer Giselle, creator and owner of Espontanea Baires. She makes everything by hand with remnants of Argentinian leather, making each piece truly one of a kind.  Added bonus: they are extremely light in weight.
*Made of genuine Argentinian leather
*Featuring nickel free lever back ear wires
*Hanging length: 2.5"
*Width: 2"
*Handmade in Buenos Aires, Argentina
Follow her on Facebook: @espontaneabaires and Instagram: @espontaneabaires