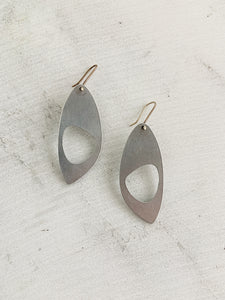 These Aluminum Kodai Earrings from artisan Daniela are striking and unique pieces of jewelry. Handcrafted with lightweight aluminum, they bring a stylish touch to any look without weighing down your ears.
These beautiful earrings are made in Buenos Aires, Argentina, making them a truly special addition to any collection. Explore the world with these beautiful earrings!
*Featuring textured aluminum with a shepherd's hook ear wire
*Hanging length: 2.25"
*Width: 0.5"
*Designed and made by Daniela Di Candia, creator and owner of Decimononica
*Handmade in Buenos Aires, Argentina

Follow her on Instagram: @decimononica and Facebook: @decimononica