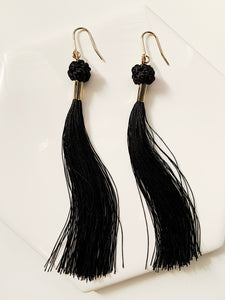 Wear these shocking beauties on any day and you will be sure to turn some heads! These beautiful earrings from Yuki Hasegawa, are artfully made by hand using traditional Japanese braiding techniques. They are created with every wearer in mind. She would like to share with you the meaning behind the Shaka style earring.
"Shaka" knot is named because it looks like Shaka's (Buddha's) head. I make these wishing Shaka will protect you and be kind like Shaka. The tassel below will protect you from the evil.
*Featuring Japanese cord with a shepherd's hook ear wire made of stainless steel with 14k gold overlay
*Color: Black
*Color Meaning:
*Length: 3"
*Knot Width: 0.25"
*Tassel Width: 0.5"
*Artfully handmade in Inuyama, Japan by Yuki Hasegawa