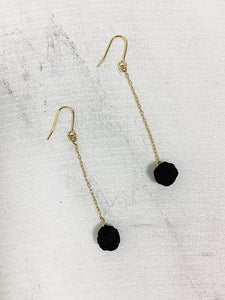 These are Japanese style in its most purest form- small and beautiful! These beautiful earrings from Yuki Hasegawa, are artfully made by hand using traditional Japanese braiding techniques. They are created with every wearer in mind. She would like to share with you the meaning behind the Musubidama knot.
The "Musubidama" knot also known as the "monkey fist" knot, as it looks like the assembled tiny fist of a monkey. It is often used as the weight on the end of back up ropes when the ships come into port. I named this knot "Musubidama, as the cord is rolled multiple times until it forms a ball. May the endless dreams and love continue on to whomever wears it just as its round shape represents no-end. 
*Featuring Japanese cord with a shepherd's hook ear wire made of stainless steel with 14k gold overlay
*Color: Black
*Color Meaning: Elegance and Mystery
*Pendent width: 0.25"
*Hanging length: 2"
*Artfully handmade in Inuyama, Japan by Yuki Hasegawa